There are a number of momentous events in the life of a startup business which you should appreciate as much as you can when they come. Respect yourself for what it has become and even if there are no customers yet at least you have somehow managed it this far. The first momentous step is official registration in the Chamber of Commerce (which anyone can do really). The second is printing your first set of company cards and later handing them out to potential customers and/or partners. The third is the kick-off date for the official start. But there is more. You see, I am happy to announce that I have somehow managed to attain the big bad step called number four. My very first advertisement in the newspaper.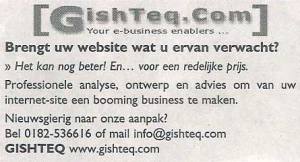 Rijn en Gouwe, 28 april 2003.
While doing the groceries this morning, I had to dash to the nearest news stand and purchase the morning edition of the Rijn en Gouwe, a local newspaper with a reading public of nearly 45 thousand. There must be one or two souls out there wanting some professional work. Certainly, I am very confident.
Now it is high time to make my way to step number five: my first (paying) customer. I hope this happens in the not too distant future. I have alot to offer, the finest quality, and at a very reasonable price!