I am so very proud of my oldest son Lennart. Even though he is quickly turning into quite the hooligan, I think I will still keep him.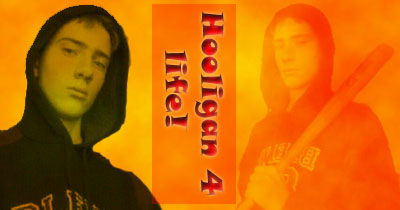 Actually there is a short story behind all of this. As is the case every weekend, Lennart got out of bed really late this morning. He walked around the house in slow motion like a zombie wearing his pyjamas, until around noon or even later. Nothing unusual about that, but you all know how it goes. Of course, as a proud father who expects so much from his oldest son, I kept complaining and bugging him to get dressed, to go and do something with his life, accusing him of being just another hooligan. "You look just like a hooligan," I kept telling him in an angry impatient tone of voice. Sorry for being such a boring and predictable father.
So rather than get all mad and cuss at me like I am sure many teenage sons his age do malisciously to their fathers these days, he just disappeared behind the computer (again). He felt inspired by my many words of wisdom, and with the help of the creative mind of his genius, which of course he inherited from me, he produced the wonderful piece of art shown above. An interesting way to express yourself I would have to say. Perhaps the computer is good for him in more ways than one.
I am so very impressed. Even if my son is turning into a regular hooligan.